Below you can see everything we offer, but do not forget the most important thing: if faced with any problem, uncertainty or difficulty you will have our support.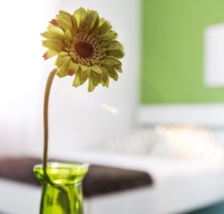 Female
residence
Mostly university students aged 18 to 26.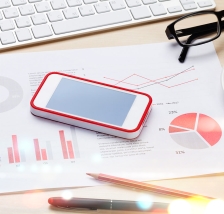 From
September
to
July
Open- from the first Monday in September to July 30th.
Closed- from December 24th at 12 p.m. until January 7th, 2024, at 6 p.m. and from Holy Thursday at 12 p.m. to Easter Monday at 6 p.m. and the whole month of August.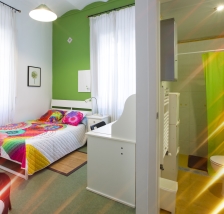 Single
or
double
room
With en-suite bathroom and an exterior window. In each room you will find a bed, mattress cover, working desk, wardrobe, bookshelf, chairs, etc. The furniture must not be moved. We have a room adapted for PMR.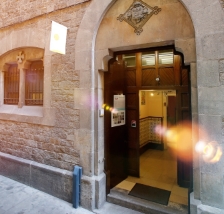 Freedom
of
schedules
In the following way: you can return whenever you want as long as you notify us previously, but you must exit before 10 p.m. because reception closes then. Keys to the main entrance will not be given, we will open for you when you arrive. Our residence is designed for young students who do not continuously go out at night.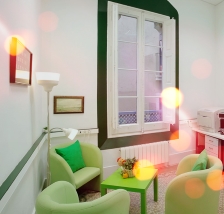 Facilities
and
services
included
Varied full buffet breakfast
every day, including Sundays and holidays.
Fast internet
connection 1Gb (cable RJ-45 and WIFI).
Heating and air conditioning
in all rooms.
Water, electricity and gas.First magnetic key or normal key
which allows residents to enter their room and activate the lights.
TV connection
in most rooms.
Reception of calls
in all rooms and common rooms.
Library:
You can receive visits and work with classmates in the library, upon registration and presentation of their ID at reception. From 7.30 a.m. to 10.00 p.m.
Computer rooms
with computers at your service. Laser colour printer (you must pay your monthly copies).
Living room:
TV, music, DVD, satellite TV and sound system. Movies and books available.
Dining room and kitchen, with the necessary utensils, fridge, cooker, microwave and a personal freezer drawer, as well as sandwich maker, Nespresso/Dolce Gusto coffee machine, toaster... Special tap water by reverse osmosis.
You can cook your own lunch and dinner. Small common kitchen.
Self-service washing machine and dryer activated with coins. Detergent and conditioner to be brought by the resident.
Daily cleaning service of the common areas.
Weekly cleaning service of the room as long as it's tidy, including a change of linen and towels once a week. A duvet, a bed cover and a blanket will be available in your room all year.
Maintenance service, to make sure everything is in perfect condition.
Café on the first floor with vending machine.
Visit hall.
Chapel.
Music room soundproofed with a piano and a rehearsal mirror, included in the price as long as there is no other event at the same time.
Terrace with solarium.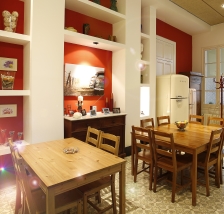 And
you
can
also
contract
Food service:
- Half board: choose between lunch and dinner, permanently, according to your academic timetable. Monday to Friday excluding holidays.
- Full board. Monday to Friday excluding holidays.
- Tickets: you can buy individual tickets or a pack of ten. You must hand in your ticket the previous day.
- Picnic: Sporadically and notifying us before 10 p.m. the previous day.
- The residence cannot guarantee special menus, diets or specific products, different from those established, but will respect allergies and religious requirements.
Fitness gym: From 7.30 a.m. to 9.30 p.m.
Music and projection room: If you want to use it at specific times or days you must reserve and pay beforehand.